On 1 October 2018 (Monday of week 0) CESS Nuffield hosted the Behavioural Retreat at Nuffield College. The purpose of the retreat is to gather a diverse group of academics working within the field of behavioural economics to present their cutting-edge research and get feedback on ideas for future research projects. Retreat participants included a great variety of accomplished researchers and PhD students at the beginning of their careers. This mix of people combined with the informal setting of the retreat make for great presentations and lively discussions.
The session before noon included presentations by Johannes Abeler, Associate Professor in Economics, University of Oxford and Vincent Crawford, Drummond Professor of Political Economy, University of Oxford. Prof Abeler presented a new project building on his previous work on tax incentives. Prof Crawford presented part of his research on the role of coordination and natural-language communication in relationships.
As the schedule was tight to accommodate all the presentations, the lunch and coffee breaks in between session provided a good opportunity to continue discussions.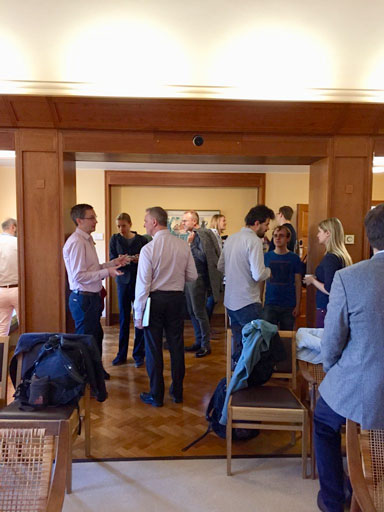 The afternoon session began with CESS Director Ray Duch's presentation on new approaches to measurement error strategies to increase the robustness of collected data. Later Armin Falk, Professor of Economics, University of Bonn, presented on his work on cultural variations in gender differences and preferences. Other participants included Sönke Ehret, Verena Fetscher, Amma Panin, Abi Adams, Miguel Ballester, Ian Crawford, Stefan Dercon, Kate Orkin, Anandi Mani, David Ronayne, Boneva Teodora, and Christian Zünd.
The retreat was concluded with dinner where participants could continue discussions and relax in the beautiful setting of the dining hall of Nuffield College. CESS would like to thank all participants for contributing to the Behavioural Retreat. We hope you enjoyed it as much as we did and received valuable feedback on your research projects.
To learn more about the speakers of the retreat, click People in the menu above and look under CESS Staff, Associated Members, and Visiting Scholars.
Don't forget to follow CESS on social media by following the links at the bottom of this page!